Developing a new website? 3 learnings from past experience
I had the chance to lead the new Fischer Connector (a Swiss B2B company) website project.
Its first version is now online! The website features a complete content and design revamp. New menus, functionalities and responsive coming soon. To see the progress made, you can still compare it with the old version here.
Here are my 3 key learnings from that experience:
Doing UX internally is possible but not easy.
I had the chance to be pretty fresh in the company and also I did not know much about the B2B industrial sector. That made it easier to get listen to the user voices without the bias of a long term. I must say I got coached by some great guys from Lausanne at :Ratio. I also read many books on the subject. Amongst the best ones are
- A Practical to Information Architecture by Donna Spencer
- Undercover User Experience Design by Cennydd Bowles & James Box.
All together we did:
- 15 stakeholders' interviews
- 2 persona workshops in Europe and in the US
- 10 customer interviews
Combining that with quantitative date gave us a pretty good idea of how to match our business goals with the visitors' objectives. We also created a persona named Jeff Scoot who helped us through the whole process of drafting the right user experience.
Choosing the right web agency is key.
We initially worked with a big player and that ended up not being the best choice. Our most important criteria for choosing the agency were:
- Past experience of B2B sector
- Location (not too far)
- Transparency in its communication
- Developers rather than creatives
The site was developed by Amazee Labs in Zürich. These guys brought just the right mix of creativity and technicity that were required for the project.
Internal communication is the most important success factor.
Every department has its objective for the new website.
- Marketing wants new things that shine and control over the content. - - - Sales want more qualified leads.
- IT wants speed, security and optimization.
- Some people are reluctant to change and would rather keep an old broken site than risk new ideas.
Getting everyone on board is key. The team I worked with has succeeded because we backed up arguments by real user data such as qualitative (customers' interviews for example) and quantitative studies (Google Analytics…).
As for every new website, it is not perfect but I hope visitors will find it usefull.
The way to get started is to quit talking and begin doing.
The Top Benefits of Social Media Marketing [Infographic] - Pamorama | Social Media Marketing Blog
See on
Scoop.it
-
Digital marketing & social media

Social media marketing facts, figures, and statistics are displayed in this handy infographic.
Herve Peitrequin's insight:
89% of respondents said that social media marketing has generated more business exposure64% saw lead generation increase by using social media 6 hours or less per day69% of marketers use social media to gather marketplace intelligence62% of marketers using social media for 2+ years reported a rise in search engine rankings62% of businesses with 10 employees or less reported that social media has reduced marketing expenses
See on pamorama.net
Agile marketing: the 70:20:10 rule
See on
Scoop.it
-
Digital marketing & social media
One of the characteristics of the modern marketer outlined in our recent Modern Marketing Manifesto is agility. The ability to be responsive and adaptive. To be flexible and embrace change.
Herve Peitrequin's insight:
10% responsive
20% programmatic
70% planned
See on econsultancy.com
The Changing Definition of Inbound Marketing: Why SEOs & SEMs Should Care
See on
Scoop.it
-
Digital marketing & social media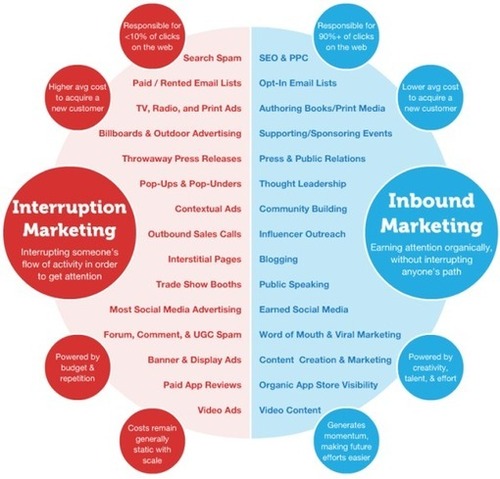 There's been a lot of talk over the past few days about inbound marketing – see this discussion at Inbound.org in response to Rand Fishkin's post announcing the rebranding of SEOmoz as just "Moz." In that post, Rand sets up a distinction between "inbound…
Herve Peitrequin's insight:
Inbound marketing is responsible for 90% of the clicks on the web. Here is a visual representation of Inbound vs Interruption marketing.
See on marketingland.com